การพัฒนากระบวนการออกแบบเพื่อการพัฒนาผลิตภัณฑ์กระจูด โดยการจัดการของชุมชน (Design Procedure Development in Bulrush Reed Product Development by the Community Management)
Keywords:
Procedure Development, Process Design, Bulrush Reed Products, Management of Community
Abstract
The objectives of the research were to study the local wisdom context used in industry and handicraft to increase potential and enhance the capability in product development of the community industry, to develop the design procedure of bulrush reed products using technology transfer, and to assess the procedures to develop designs of bulrush reed products.
The purposeful sampling was used with 37 samples including 20 community leaders, 2 industrial factory executives, and 15 producers of bulrush reed products in Tumbol Thasatorn, Amphur Phun – Phin, Surat Thani Province. The study found that:
1. Tumbol Thasatorn had enough potential for the development of the community business because there were raw materials for production. The community leaders could increase the potential and enhance the capability in product development by supporting budgets and other activities. The producers had abilities to produce community products. Their design expertise was not high, but ready to be developed.
2. To develop the procedure designs of bulrush reed products using participatory learning to specify strategic plans, it was found that the producer group lacked knowledge and understanding in designing. Besides, they used the traditional design of bulrush reed products such as mats to decorate used tables, chairs, cabinets in the furniture renovation, becoming new products to present to the public.
3. To assess the procedure of design development of bulrush reed products, it was found that the producers were satisfied with the participatory procedures from the beginning to the end, which were in accordance with the opinion of the community leaders and those with the potential to increase and enhance the product development. The experts thought that the original products that the producers developed by using the design procedures were appropriate in their beauty, functions, materials and marketing. There was possibility that the products could be developed to be the community business.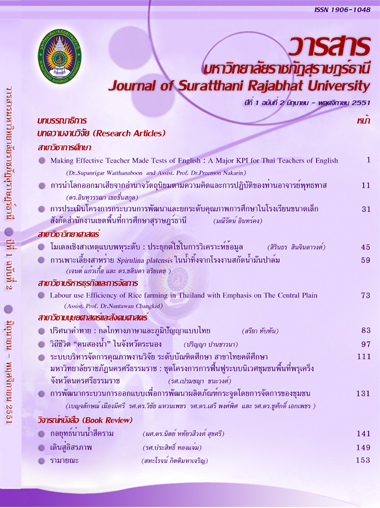 Downloads
How to Cite
เมืองมีศรี เ., แหวนเพชร ว., พงศ์พิศ เ., & เอกเพชร ช. (2022). การพัฒนากระบวนการออกแบบเพื่อการพัฒนาผลิตภัณฑ์กระจูด โดยการจัดการของชุมชน (Design Procedure Development in Bulrush Reed Product Development by the Community Management). วารสารมนุษยศาสตร์และสังคมศาสตร์ มหาวิทยาลัยราชภัฏสุราษฎร์ธานี (Journal of Humanities and Social Sciences, SRU), 1(2), 131–140. Retrieved from https://e-journal.sru.ac.th/index.php/jhsc/article/view/15