การนำโลกออกมาเสียจากอำนาจวัตถุนิยมตามความคิดและการปฏิบัติ ของท่านอาจารย์พุทธทาส (Free Humanity from the Constraints of Materialism according to Than Ajahn Buddhad?sa)
Keywords:
Materialism, Constraints of Materialism, Than Ajahn Buddhad?sa
Abstract
The objective of this research is to understand and apply the body of knowledge in Than Ajahn Buddhad?sa's Third Resolution: "Materialism's Constraints which Mankind Clings to". Than Ajahn's conception, and his practice of this conception during the course of his life, led him to triumph over the power and allure of materialism. A sample of twenty-two education students participated in a seven-day retreat at the International Dharma Hermitage in Chaiya. At the Retreat, the students determined the differences between "need" and "want", learning about how to live moderately, morally, and with a minimum of materialism. They learned how to liberate their minds from attachments and learned to restrain themselves individually. Qualitative data was integrated, using the research methodologies of observation, interviews, meetings and document analysis.
According to Than Ajahn, possessions and having material wealth are the most important things in life. People adore comforts, worship sensuality and search for pleasure without self control which leads to harm other and damages the environment. All suffering has its origin in greed, in a materialism that gives emphasis to a fulfillment of "want" rather than a fulfillment of "need".This emphasis leads to several significant spiritual defilements: confusion, delusion, greed, hatred and violence. Than Ajahn advocates that happiness is better served by need-materialism rather than want-materialism. Mainstream education promotes materialism to young students. He advises us to integrate Buddha-Dharma into our societies educational system. The Noble Eightfold Paths is the way that should be practiced.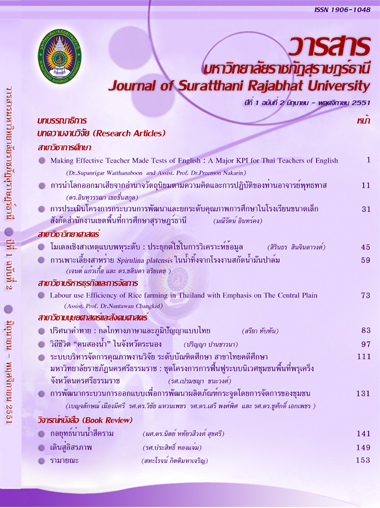 Downloads
How to Cite
เชยชื่นสกุล อ. (2022). การนำโลกออกมาเสียจากอำนาจวัตถุนิยมตามความคิดและการปฏิบัติ ของท่านอาจารย์พุทธทาส (Free Humanity from the Constraints of Materialism according to Than Ajahn Buddhad?sa). วารสารมนุษยศาสตร์และสังคมศาสตร์ มหาวิทยาลัยราชภัฏสุราษฎร์ธานี (Journal of Humanities and Social Sciences, SRU), 1(2), 11–30. Retrieved from https://e-journal.sru.ac.th/index.php/jhsc/article/view/84